Mini Hacettepeli and Ayser and İhsan Doğramacı Kindergarten are offered in the Sıhhiye Campus, and Beytepe Kindergarten and preschool education opportunities are offered in Beytepe Campus. These kindergartens benefit from the academic knowledge and research findings of the relevant units of our university in educational practices.
Mini Hacettepeli Kindergarten
Mini Hacettepeli Kindergarten has been serving since 15 April 2013 for 6-36 months old babies and children with its strong staff team and the Developmental Targeted Education Program.
Groups
6-12 months
13-18 months
19-24 months
25-36 months
Our babies and children; in hygienic environments, by met basic self-care needs; a warm family environment is offered to support healthy, happy and safe growth.
Developmental evaluations of our babies and children are made periodically in the first week of starting nursery and during the ongoing process. By taking individual differences into consideration with Development Assessments, which form the basis of our Training Programs.  The learning process takes place by observing-experimenting-experiencing and playing in open game corners that contain rich stimuli, support development areas in a holistic manner and prevent visible disabilities.
In our program process that we plan according to the age and developmental characteristics of our children; We aim to ensure their secure attachment, to take the basic steps of their self-perception, to increase their self-worth perception, to ensure that they are open to differences, to gain the awareness of being a part of a social group and their ability to adapt to life, and to support their creativity.
With the contribution of our "Mini Hacettepeliler Kindergarten Supports Families", "Our Parents on Duty" and " Our Individual Parents and Meetings" programs, we are in constant communication with our parents and ensure the effective participation of our parents.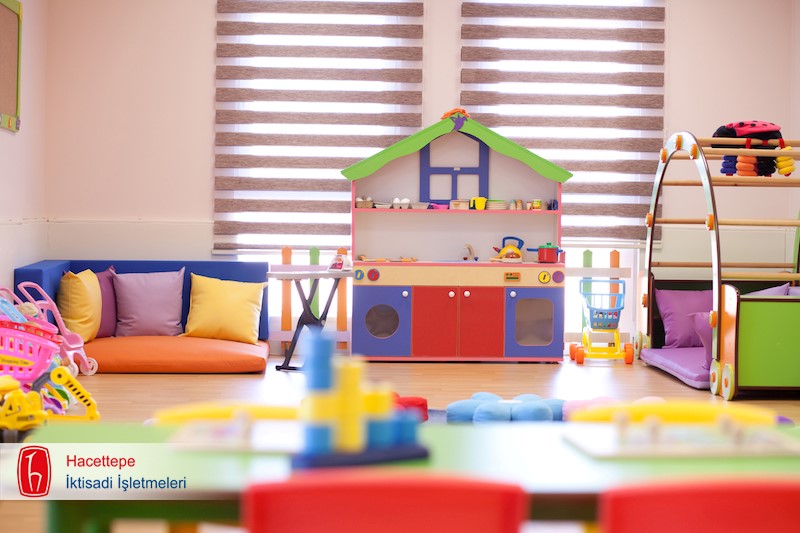 Contact Information
Address: Behind Geyik Café in Sıhhiye Campus
Tel: 0 312 305 31 70 / 71 / 72
Ayser and İhsan Doğramacı Kindergarten
Our kindergarten supports the development of our children with the Developmental Conformity Approach Education Program.
Highscope, Reggio Emilia, Waldorf, Montessori, Bank Street, Pestalozzi, PYP (Primary Years Program) approaches are aimed at implementing the Eclectic Preschool Program.
In line with our goals; it supports our children to learn effectively by creating child-centered learning environments where all their senses are active and to plan programs using initiative.
In our educational environment intertwined with nature; It is ensured that there are individuals who are eco-friendly and take care of nature.
After finishing school, it is aimed to enable children to progress with great self-confidence, using their visions, without needing anyone in their own way, and to actively learn about the social and physical world that surrounds them.
Children's creativity and multifaceted development are supported by taking into account their individual development and an educational program is established for their needs to raise individuals with an international mindset by identifying individual differences, development levels and interests.
It is aimed to bring researchers, curious, careful, environmentally solving individuals who combine their heart and mind, who are confident, independent and stand out for their leadership qualities.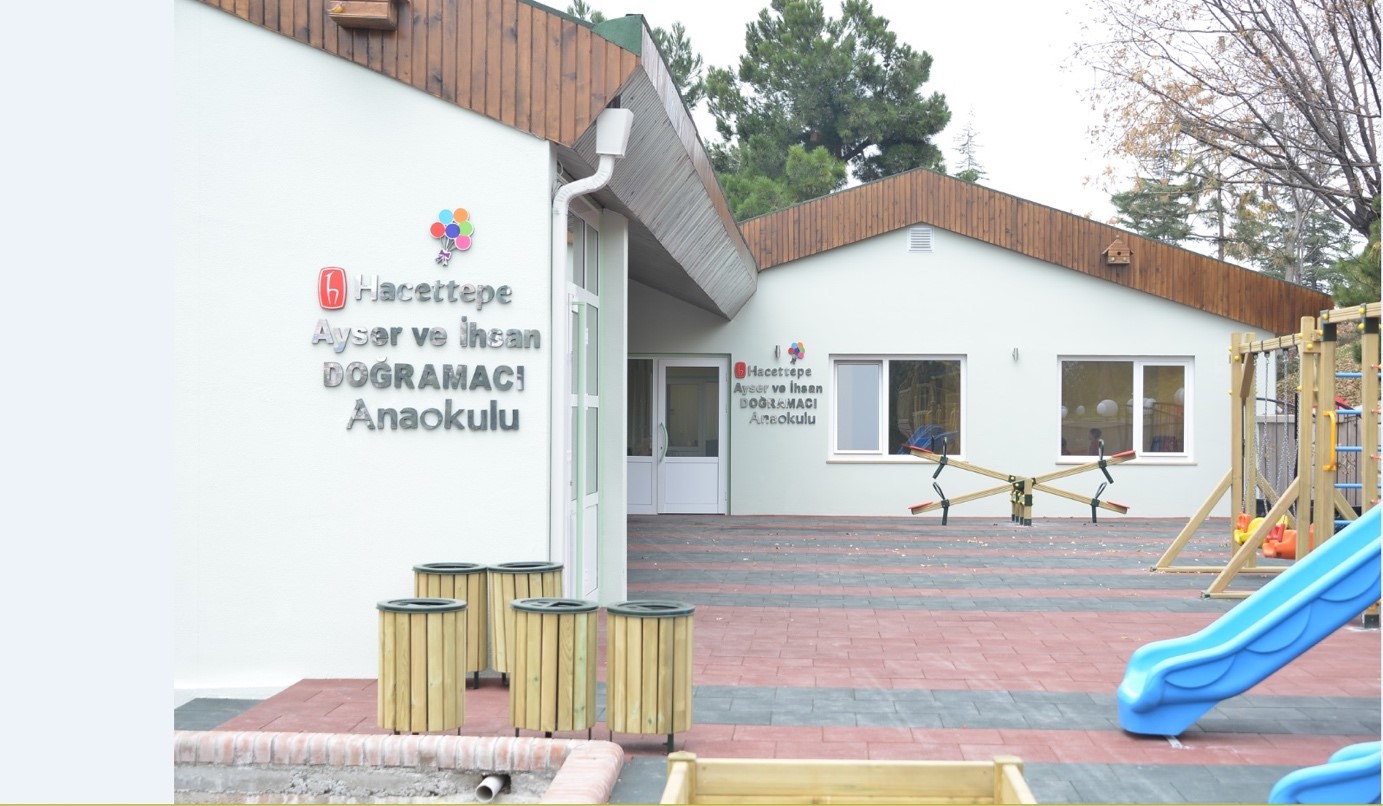 Contact Information
Address: Behind Geyik Café in Sıhhiye Campus
Phone : 0 312 305 33 34 - 0 312 305 33 35
Beytepe Kindergarten
Hacettepe University Beytepe Kindergarten, which has been serving in Beytepe Campus since 1978, with a capacity of 156 children, tries to meet the demands of our university staff working on Beytepe and Central campus and families outside Hacettepe University.
The kindergarten, which continues its activities under the Department of Preschool Education at Hacettepe University Faculty of Education, benefits from the vast knowledge and research data of the faculty members of the department in its applications. In addition, many projects are carried out in cooperation with other faculties and units of our university and thus opportunities are offered for our children to have rich learning experiences.
The primary goal of Beytepe Kindergarten is the happiness, well-being and healthy development of every child. The development of children in line with their interests and needs based on their age and developmental characteristics is among the basic principles of our education program. Children are actively involved in the learning process in a respected and valued educational environment.
It is argued to support all development areas in the experiences and interactions provided for children with the education program prepared on the basis of holistic education understanding. It is emphasized that not only cognitive space is important for the development of the child, but also physical, social, emotional and aesthetic development. Children enjoy exploring and learning through the game. Therefore, the game is the most commonly used type of activity.
Taking into account the family, society and culture in which children live while their needs are being met will ensure that the support is effective. Because the good/healthyness of the child is closely related to the good/healthyness of the family, especially the adults who provide primary care. Supporting the family and the community is helping the child, as well as supporting the child and contributing to the family and community. In this direction, active participation of parents in education is encouraged and interactive family seminars are organized in line with their requests.
With an educational approach that guides individuals to live more consciously and responsively towards the society and natural ecosystems in which they live, opportunities are created for children to benefit from out-of-school environments during the day. In particular, it is tried to make as much use of the schoolyard and campus facilities as possible to establish intermediary connections with the natural world. Thus, it is aimed that children learn to respect the natural environment and the interdependence between people, plants, animals and soil in this environment.
While preparing the education program of Beytepe Kindergarten, it was developed with the aim of ensuring that children who attend preschool education institutions grow up healthy by adding rich learning experiences to their lives, that all development areas are supported and that the child reaches his own developmental level, gain self-care skills and be ready for basic education. The program is a versatile program with supportive and preventive dimensions, as it aims to support children's development as well as prevent inadequacies that can be seen in all areas of development.
The kindergarten education program is continuously supported by our school coordinator and strengthened by current studies. Undergraduate and graduate students of the department have the opportunity to apply their theoretical knowledge by organizing activities in kindergarten under the leadership of their advisors. In this sense, our kindergarten also has the characteristic of being an application kindergarten.
For more information,  
visit https://beytepeanaokulu.hacettepe.edu.tr/Anasayfa.php